Resilience: Black Women and Public Health – Book Chapter
"The Color Line of Infertility: Reproductive Disparities in Black Women"
This ad hoc writing committee is a distinctive group of professionals and students who are
passionate about addressing disparities in maternal health. This committee uses its cultural and
professional diversity to identify and examine such inequities. As such, the committee is developing a chapter titled "The Color Line of Infertility: Reproductive Disparities in
Black Women" for the book, Resilience: Black Women and Public Health.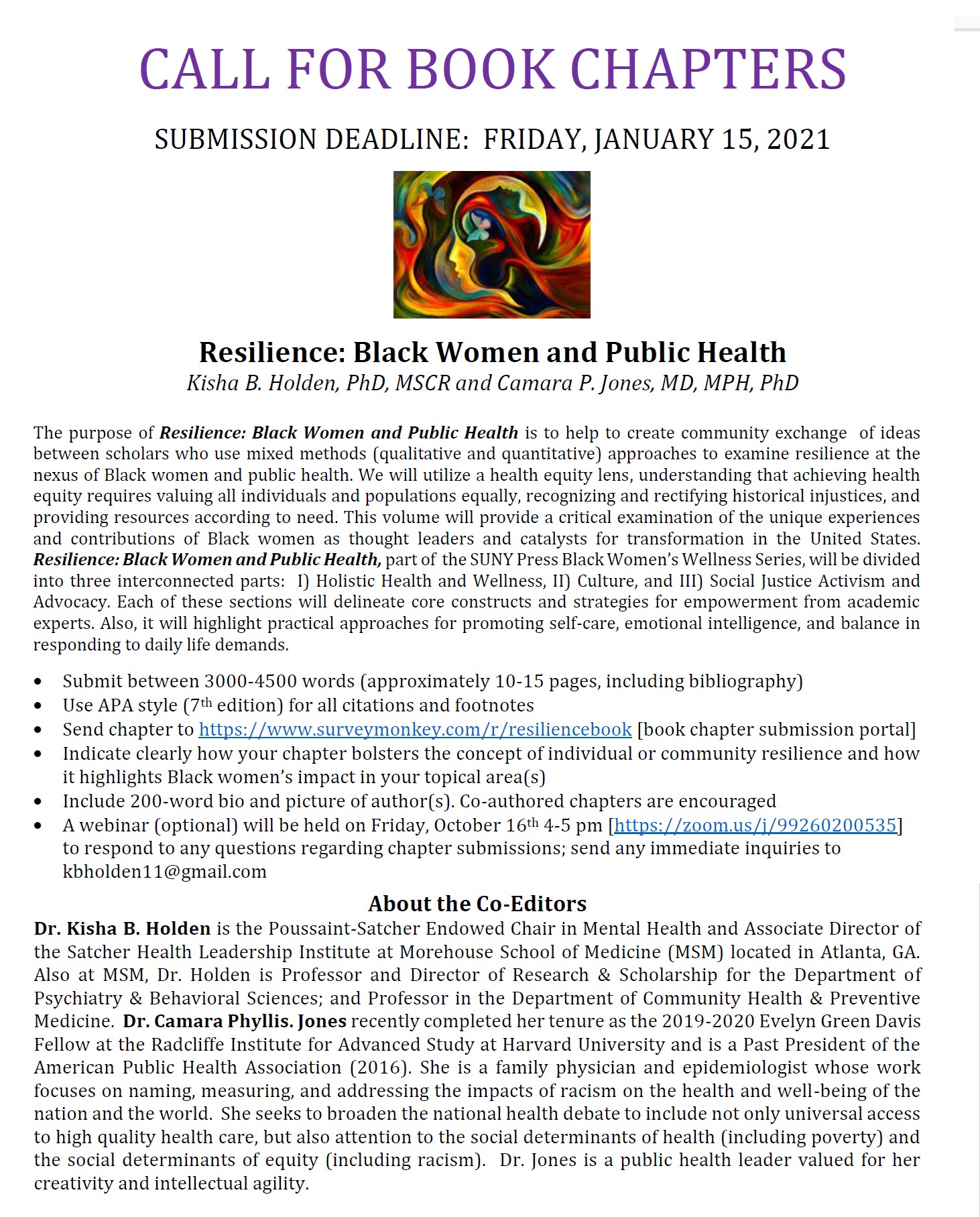 Chairs
Yoann Sophie Antoine
Yoann Sophie Antoine, MPH, is a public health professional with ample expertise in community outreach, substance use and misuse, health education, survey development, data analysis and environmental health. Her research interests include migrant health, minority health, mental health, quality improvement, chronic disease prevention, environmental infectious diseases, and reproductive health. Ms. Antoine earned a Bachelor of Arts in Hispanic and Iberian studies with a concentration in translation and interpretation from the University of Massachusetts Boston and a Master of Public Health from Nova Southeastern University. In joining the MOTHER lab, Ms. Antoine is interested in investigating issues such as incompetent cervix, postpartum depression, preeclampsia, etc. Ms. Antoine is an avid and lifelong learner; she enjoys working hard towards issues that are meaningful. Ms. Antoine aims to use her public health and multilingual skills to address the inequities and social injustice that many are faced with. When she is not teaching herself a new skill, Ms. Antoine enjoys spending time with her family, exploring new eats and go for a run.
Blessing Chidiuto Lawrence
Blessing is a Data Coordinator at Partners in Health and also serves as a Research Associate for Amaka Consulting & Evaluation Services. She earned her Master of Public Health in Epidemiology & Biostatistics from Tufts University School of Medicine. Her current areas of interest are centered on improving systems of care, addressing disparities in maternal & child health, and promoting effective contextualization and interpretation of scientific data. As such, she has conducted independent and collaborative projects in line with her interests. Inspired by her experience as an international student, she is passionate about promoting innovation through diversity and inclusion- as is evident in her role in helping create the Tufts Black Student Alliance, serving as a peer-mentor for first generation college students, and vice-president of the public health and professional degree programs student senate at Tufts. As an aspiring future physician, she has a strong commitment to create lasting social impact through addressing health and wellness from the perspective of the individual as well as the community. In her spare time, she enjoys reading, pretending to be an influential blogger, and putting her non-existent vocal skills to good use- only from the comfort of her home!
Members
Shubhecchha Dhaurali
Shubhecchha Dhaurali (pronounced Sue-betcha Dur-all-e) is from Medford, MA attending Tufts University as a first-generation student originally from Kathmandu, Nepal. Career and academic aspirations of Shubhecchha's include pursuing an MD/PhD degree in Clinical and Translational Science to become a Physician Scientist involved with public and community health. Shubhecchha believes it is important that trained professionals such as doctors not only treat individual patients' problems, but that they implement interventions and prevention programs that fight the root causes of disease such as poverty, inadequate housing, and lack of employment opportunities. Shubhecchha is double majoring in Community Health and Biology, therefore the intersectionality of medicine, technology, science, and society are exciting and necessary fields of exploration for her! As a South Asian minority and an immigrant woman of color, Shubhecchha feels it is important for her to become the representation she does not see in addressing, advocating, and one day, eradicating socioeconomic and health challenges BIPOC populations face.
Lauren Cohen
I am a junior at Tufts University studying Biology and Child Study and Human Development with a concentration in Child and Family Health. My interests include reproductive health, pediatric and maternal health, and genetic disorders in children and adolescents. In the future, I hope to combine these passions and work as a genetic counselor, identifying potential genetic conditions and providing clear communication and emotional support to patients. I am excited to join the MOTHER lab to learn more about and help address the problems of reproductive health disparities and maternal mortality and morbidity. In addition to working in the MOTHER lab, I am also conducting biological research in the Freudenreich Lab at Tufts, which investigates genome instability. I hope that these experiences will enhance my skills in quantitative and qualitative research, data collection and analysis, and academic writing as well as set me up for a career in healthcare.
Paige Feyock
Paige Feyock is a rising junior at Wellesley College double majoring in Sociology and Africana Studies on the pre-medicine track. At Wellesley, she is involved in the Lambda Upsilon chapter of Alpha Kappa Alpha Sorority, Inc., serves as Vice President of Ethos, Wellesley's organization for Students of African Descent, and is Treasurer of Tau Zeta Epsilon, an arts and music society. Paige's post-graduate plans include obtaining a Masters in Public Health and then matriculating into medical school and specializing in Obstetrics and Gynecology. Her passions lie within health equity and reproductive justice and actively advocates for better health outcomes for Black people in the current medical system. She is currently interning at NextGen Jane, a data-driven healthcare company known for inventing a smart tampon system that offers insight into individual's reproductive health systems. In her free time she enjoys making playlists and pursuing Netflix.
Beverly Udegbe
Beverly Udegbeis a current undergraduate student at Tufts University majoring in Community Health on the Pre-Medical track. Her main academic interests include learning about health disparities, specifically amongst the Black population with emphasis on Black women and low-income communities. She is additionally focused on promoting civic engagement by closely working with organizations on community projects. At Tufts, some of Beverly's favorite involvements are her leadership role as Public Relations Chair for the African Student Organization, her membership in the Tisch Scholars for Civic Life program: which focuses on hands-on community fieldwork combined with class seminars addressing social justice issues, and her role as a stepper on Envy Tufts Ladies Step Team. Outside of Tufts, Beverly is a volunteer with the Resilient Sisterhood Project: an organization dedicated to educating Black women on illnesses that affect them at disproportionately high rate, a mentor through the College Ambassadorship Program at The Student Science Innovation Network, and a Content Curator for the Global MILCC Box which provides Community Leaders with resources and a toolbox for success. Beverly is also a proud first generation Nigerian American and values all the unique aspects that make up her culture. In her limited spare time, Beverly loves to try out new baking and cooking recipes, even when they turn out a flop. She also loves to stay active outdoors, swimming, and has a newfound love for yoga. In the future, she hopes to travel around the world learning about new cultures. Beverly is extremely grateful to be a part of the MOTHER lab and excited to have an impact on changing the narrative when it comes to maternal health.